Katrina-The Big10! Pop- Up Gallery"
Commemorating the 10th Anniversary of Hurricane Katrina
Featuring paintings from Holly Sarre's "Flood Series"
Native Artist Holly Sarre' has devoted the last 10 years of her life to capturing the spirit of New Orleanians, by telling the stories of struggle and survival of the many people and their pets, rescued by the US Coast Guard, the National Guards (from almost every State in this country), as well as by the brave residents of our city.
As most New Orleanians know, we face almost every painful situation with bittersweet moments of humor as we almost always would rather laugh than cry. After much work and many paintings (over 100) she would like to share her uniquely New Orleans' vision.
The "Flood Series" are an intimate interpretation of those days and designed to be in the homes of all whose hard work and determination have brought us a new and stronger City. It is with this in mind that we bring you this "Pop-Up Gallery" appropriately showcased in a genuine New Orleans Shotgun Home. Video preview link http://youtu.be/d2NPaNBI970
Where: 1100 Marengo Street
When: Friday -August 28th - 6PM – 9PM (Opening Night)
Saturday -August 29th - 10AM -5PM /with a Reception from 6PM - 9PM
Sunday -August 30th -12Noon – 6PM
On display and for sale will be Fine Art Prints, Giclee Reproductions on Canvas and Original Paintings of over 50 pieces created between August, 2005-2015
BIO
Accomplished contemporary folk artist Holly Sarre is the latest member of her family to capture the beauty and complexity of New Orleans and southern Louisiana on canvas since the 1800s. Holly's artistic legacy includes, among others, Henry W. Sarre' (b. 1829) and Carmen G. Sarre' (b. 1895), who were among the first New Orleans artists to be recognized as Who Was Who in American Art, and their works are still sought-after by collectors today.
Like Sarres before her, Holly's work embraces classicism in the iconic New Orleans imagery she chooses as her subjects, but her execution is decisively contemporary. Her Brass Bands, First and Second Lines, Mardi Gras Flambeaux as well as the city's renowned architecture and cemeteries come alive in a rich, vivid Creole palette. At once her canvasses pay heartfelt homage to the city she loves, but also surge with passion and emotion, ranging from joy to despair.
Of particular note is the highly collectible Flood Series Sarre created post-Katrina. In her stunning architectural renderings she depicts a beautiful vibrant cityscape that on closer inspection mirrors a city's aspirational response to tragedy. Some say inspirational as well. Her paintings precipitated by the BP oil leak are similarly wrought with feelings spiraling out of control.
Sarre's work has been recognized in juried competitions across the country. She has been a featured artist at the New Orleans Jazz and Heritage Festival, on multiple occasions and her collection hailed by critics as a "must-see." Recent shows inlude the Contemporary Arts Center's "NOLA NOW", 3 paintings in the "Louisiana Contemporary Show" at the Ogden Museum of Southern Art (Thru Sept 22, 2013) and the upcoming Bombay Artisans Series" to be held at 527 Julia Street, opening on Oct 5, 2013.
Below is a link to my Katrina "Flood Series" videos on Youtube the one on top is from the big 10th anniversary of 2015 and the one below it from 2007
http://www.youtube.com/watch?v=qdwsAQdZEIY
N. O. Redux II
40" X 30"
"Landscape, Cityscape,Seascape"
Contemporary Arts Center
NOLA NOW 2012
Bombay Artisans Series /New Orleans
L'entrepot Gallery / 527 Julia St. NOLA
Opening Oct 5, 2013 from 6-9PM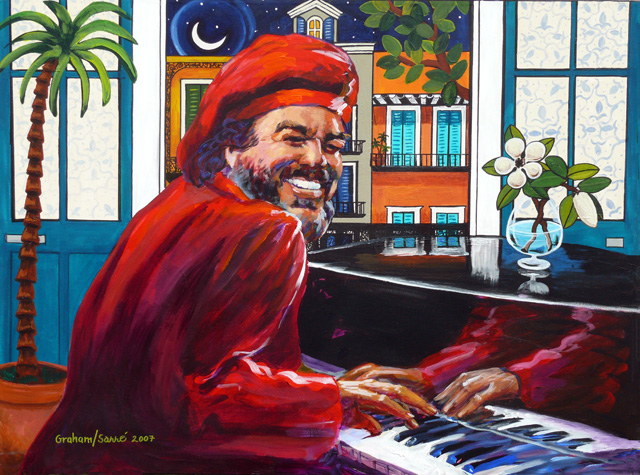 RX for Music
40" X 30"
The painting above is a collaboration between Artists by Holly Sarre' and Bob Graham. To see more of Bob's work including his "Mardi Gras Series" and The portraits in the "Saints Hall of Fame" click on the link below